What's New? Extreme Weather
December 30, 2015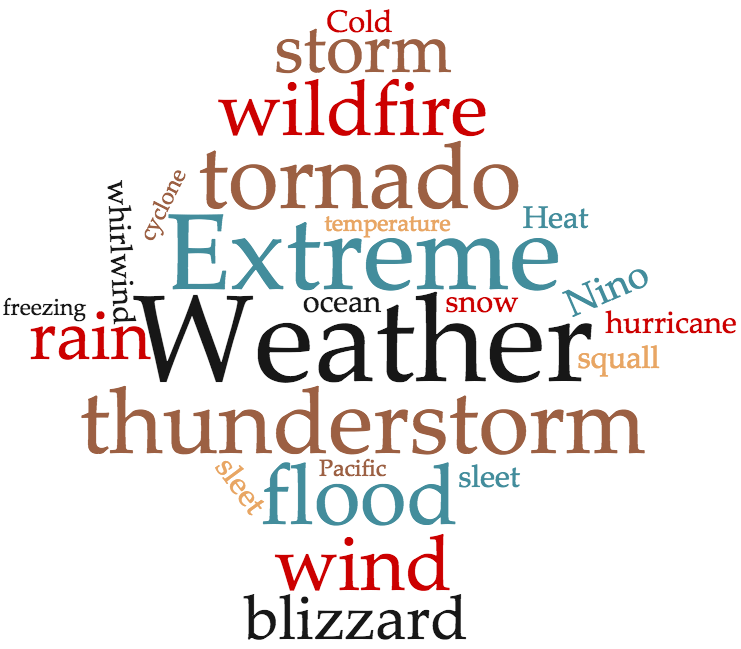 As we look back on 2015, and look forward to 2016, we cannot look away from headlines around the world proclaiming weather extremes of epic proportions. From heat waves to cold waves, from blizzards to tornadoes, 2015 ended with some out-of-control record-breaking weather.
Sitting with my family on the evening of December 23, listening to the tornado sirens blaring, I worried and prayed for my 18-year-old son who was driving home from work in a sudden storm. Thankfully, he arrived safe and sound —but deeply scared and shaken. Torrential rains, tornadoes, floods, blizzards: those Christmas week storms were responsible for more than 40 deaths in the US. Watching the weather news in the US during the last week of December was rather bizarre: The eastern half of the country was experiencing history-making heat waves (along with the tornadoes and other violent weather phenomenon that accompany drastic temperature changes), while the western half was experiencing cold waves and dangerous blizzard conditions. The Northeastern US and parts of Canada ended 2015 with unusually high temperatures and very unseasonable weather. Some folks were pleased with the "Green Christmas" (the Heat Miser certainly would have been happy), but Eastern ski resorts had a rather unprofitable holiday season.
Here's a perfect example of that week's crazy weather extremes: December 26, 2015 was one of the strangest days, weather-wise, that I've experienced. As I watched the TV news, the meteorologist showed videos of people in New York City wearing tank tops and eating ice cream. Then, in a bizarre juxtaposition, I switched channels and watched the snow falling in El Paso, TX, on the Hyundai Sun Bowl (the irony of the name is duly noted). El Paso is a border town, which means that Ciudad Juarez, Mexico, was getting some flurries as well. Balmy in New York and snowing in Juarez? Crazy!
And it's not just North America experiencing these crazy weather extremes. Unseasonably warm temperatures in the UK and Europe have contributed to massive flooding, leaving much of northern England underwater. Flooding in parts of Paraguay, Argentina and Uruguay last week forced nearly 150,000 people to flee their homes. Torrential rains have caused levees to fail and bodies of water to overflow in South America. Flooding is leading the news all over the world, in fact. Some areas, however, were damaged by a lack of rain. California and Australia experienced heavy wildfires in late December, with fires burning out of control on Christmas Day.
El Nino is being blamed, at least in part, for much of this extreme weather. El Nino is a weather phenomenon associated with extreme droughts, storms, and floods; it is a weather pattern driven by warm water temperatures in the central and eastern Pacific Ocean. According to the World Meteorological Organization (WMO), this year's El Nino is the strongest one in 15 years. At a news conference in November, WMO Secretary-General Michel Jarraud stated that, although this El Nino might be one of the two strongest recorded, the world is actually better prepared this time around. Countries are planning ahead for El Nino's impact on water, agriculture and fisheries, and world health. Jarraud stated, "However, this event is playing out in uncharted territory. Our planet has altered dramatically because of climate change, the general trend towards a warmer global ocean, the loss of Arctic sea ice and of over a million square kilometers of summer snow cover in the northern hemisphere. So this naturally occurring El Nino event and human-induced climate change may interact and modify each other in ways that we have never before experienced. Even before the onset of El Nino, global average surface temperatures had reached new records. El Nino is turning up the heat even further."
According to NASA, "While scientists still do not know precisely how the current El Niño will affect the United States, the last large El Niño in 1997-98 was a wild ride for most of the nation. The "Great Ice Storm" of January 1998 crippled northern New England and southeastern Canada, but overall, the northern tier of the United States experienced long periods of mild weather and meager snowfall. Meanwhile, across the southern United States, a steady convoy of storms slammed most of California, moved east into the Southwest, drenched Texas and — pumped up by the warm waters of the Gulf of Mexico — wreaked havoc along the Gulf Coast, particularly in Florida."
So, as we brace ourselves for (possibly) another wild ride, be alert and ready, but also proactive and positive. Know what to do in case of a weather emergency (here's a handy emergency kit checklist), but also ask yourself how you can help, both the environment and the people most affected by extreme weather. Make a start, a new beginning . . .
AND MAKE 2016 YOUR BEST YEAR YET!
"The beginning is the most important part of the work." – Plato
CBC News, "Strongest El Nino in 15 years playing out in 'uncharted territory,' WMO says": http://www.cbc.ca/news/technology/el-nino-climate-change-1.3322632
CBC News, "El Nino rocks winter weather worldwide with floods, twisters, blizzards": http://www.cbc.ca/news/world/el-nino-weather-paraguay-texas-wildfires-australia-winter-1.3381960
NASA, "A Still-growing El Nino set to bear down on US": http://climate.nasa.gov/news/2382/
National Geographic, "Extreme Weather": http://ngm.nationalgeographic.com/2012/09/extreme-weather/miller-text